30+ Mouthwatering Mediterranean Meals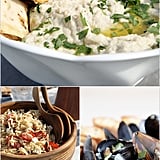 As I state in my previous post I am not one of these people who need to lose weight. With that being said I do love me some good food. Most importantly it has to be healthy. I'm going through a very slow process of doing that. And I mean snail pace. But I'm trying to make some sort of effort. I just recently got involved with Blue Apron. You should check that out. It's great if you're on a budget. Like myself. I have to admit the commercials convinced me to sign up for a subscription.
Now while I'm all for healthy, the meals have to taste good. Sorry, can't enjoy anything if it doesn't have any flavor in it. I assume that goes for anyone. Seeking to consume better meals, snacks, etc… Not only for yourself but your families as well. Which now brings me to discuss the Mediterranean Diet. What is this diet-meal plan per say? The Mediterranean diet emphasizes: Eating primarily plant-based foods, such as fruits and vegetables, whole grains, legumes, and nuts. Replacing butter with healthy fats such as olive oil and canola oil. Using herbs and spices instead of salt to flavor foods.
How the Mediterranean Diet could benefit you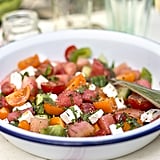 Just read this quote from https://www.popsugar.com/fitness/What-Foods-Mediterranean-Diet-21768972
 A large study of 7,500 people in Spain found that following a Mediterranean diet can cut your risk of heart attack, stroke, and heart-disease-related deaths by about 30 percent compared to a typical Western diet that didn't include Mediterranean staples. Since this study followed people who were overweight, had diabetes or heart disease risk factors, and currently smoked, many say the results show just how beneficial the diet is for people who are at high risk of developing cardiovascular complications.

Past studies have found that following a Mediterranean diet can help lower the risk of heart and eye complications, control your weight, protect brain function, and help you live longer, so there are more than a few good reasons to eat like you're on an overseas vacation. Read on for six staples of the Mediterranean diet you should be eating.
This is something that I'm down for. Plant-based foods, like fruits and veggies, whole grains etc..I can follow. In my opinion, the best place to purchase these types of foods Whole Foods. You know that grocer that's referred to "Whole Paycheck".  But there are other options, apart from this particular meal plan, there are other health plans. For example, Kelley Herring is pretty popular and is the Founder & CEO of Healing Gourmet. For more information on what she has to offer click here 
Or even better AmazonFresh These two services offer their own subscription plans on their grocery products.  Which I think is a great option considering the fact, that a lot of people are using the Internet for major purchases.
So to be successful in achieving your goal of weight loss: set multiple, smaller, more easily attainable goals for yourself. These will keep you self-motivated and more likely to obtain your overall goal of a happier lifestyle.
Note: Some links that lead off this site may be affiliate links, which means I may make a small commission if you make a purchase. You will not pay more! I appreciate your support of this site.